L11C Liberty Task Chair With Height Adjustable Gel Arms with Matching Textile Cover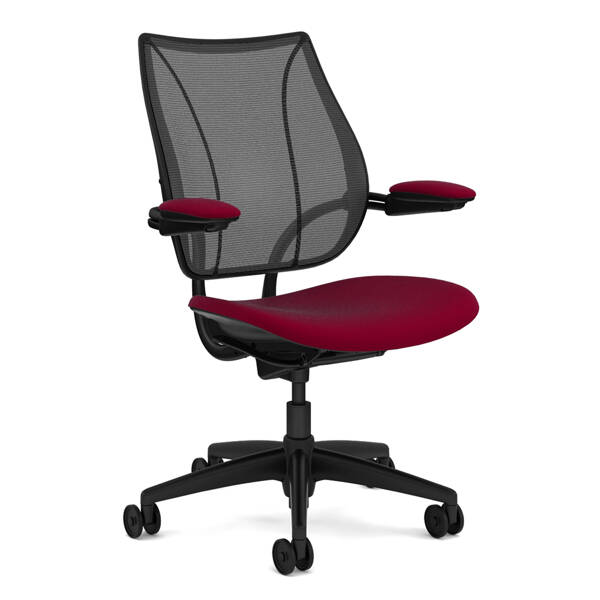 L11C Liberty Task Chair With Height Adjustable Gel Arms with Matching Textile Cover
£850.30 (Excl VAT.)
£1,020.36 (Incl VAT.)
Please note that images on computer screens often distort the actual colours and you may wish to order a fabric card or wood sample if you want an accurate reflection of the finish.
Qty
Product Description
Product Specification
Reviews (0)
Liberty, with Form-Sensing Mesh Technology, is unlike any mesh chair you've seen or experienced. With its tri-panel construction, it has the body-fitting contours that single-panel stretch mesh chairs simply can't achieve. And it offers perfect lumbar support for everyone, without external devices or manual adjustments. Liberty's mesh back is formed by combining three panels of non-stretch mesh in the same way a tailor combines multiple pieces of material to form a shirt. Its contours are custom-made to both fit and support the human body in unprecedented comfort.
Liberty Task Chair With Height Adjustable Gel Arms with Matching Textile Cover
Seat Depth 420-475mm
Seat Height 405-535mm
Seat Width 535mm
Backrest Height 570mm
Backrest Width 510mm
Armrest height 165-290mm adjustable arms
Armrest length 310mm
Distance between armrests 485mm
Overall height 980-1105mm
Base Diameter 635mm
Backrest width 535mm
Weighs 12.3kg
OTHER OPTIONS ARE AVAILABLE
Please contact the sales office for further details