A583 Mollie High Stool With Clear Lacquered Beech Shell, With Fully Upholstered Seat And Back And 4 Leg Base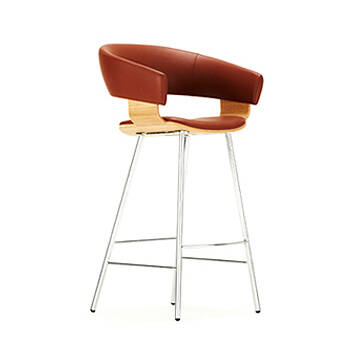 A583 Mollie High Stool With Clear Lacquered Beech Shell, With Fully Upholstered Seat And Back And 4 Leg Base
£491.90 (Excl VAT.)
£590.28 (Incl VAT.)
Please note that images on computer screens often distort the actual colours and you may wish to order a fabric card or wood sample if you want an accurate reflection of the finish.
Qty
Product Description
Product Specification
Reviews (0)
A luxurious and satisfying design, Mollie displays both classic and contemporary elements. The range comprises of a four leg armchair and high stool and a centre pedestal armchair and high stool, both of which swivel through 360 degrees. Mollie is a versatile design that can enhance a vast array of interior syles being ideally suited to hotel and restaurant dining, bars, or corporate environments.
Weight 10.5kg
Tubular Steel frame in Silver M04 EPPC
Upholstered seat and back
Clear lacquered Beech shell
Plastic glide
Overall Height 1000mm
Overall Depth 510mm
Overall Width 560mm
Seat Height 750mm
Seat Width 400mm
Seat Depth 440mm
Please contact the sales office for further details